Little Dixie
is a mobile musical act for parties, receptions, business events, … suitable for young and old. Visit our YouTube channel. You can find our repertoire below.
Met veel humor
en muzikaliteit is deze animatie act een geweldige toevoeging op uw feest, opening, receptie, buurtfeest of zakelijke evenement.
Little Dixie is een mobiele act. Het repertoire bestaat uit vele Dixieland-klassiekers, maar ook uit Nederlandstalige meezingers die jong en oud in feeststemming brengen. Onderaan vind je het volledige repertoire.
Price:
€200 for the first hour. €50/half hour extra. Travel expenses (European mainland) €0.50/km.
Uitkoopsom:
€200 voor het eerste uur.  Uitbreiding is mogelijk aan €50 per halfuur. Vervoersonkosten: €0,50/km. Voor grotere evenementen: prijs op aanvraag. Als geregistreerde muzikanten kunnen wij u een factuur bezorgen.
Facebook:
www.facebook.com/LittleDixieVlaanderen
YouTube channel:
Website: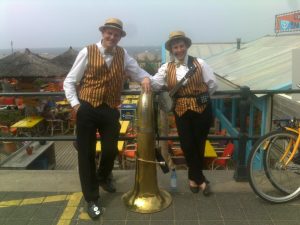 Repertoire: 
Songs in English / Engelstalige nummers
Ain't No Sunshine When She's Gone
All Of Me
Basin Street Blues
Beat It
Blueberry Hill
Chatanooga Choo Choo
C'mon Everybody
Country Roads
Down by the Riverside
Five Foot Two
Fly Me To The moon
Going Up the River
Hallelujah
Happy Birthday
Hello Dolly
Hello Mary-Lou
I Don't Wanna Dance
I Feel Good
Iko, Iko
In The Mood
It's Now or Never
Jambalaya
Johnny Be Goode
Just a Closer Walk With Thee
Just a Friend of Mine
La Bamba
Late in the Evening
Let's Twist Again
Mr. Sandman
O Suzanne
O When the Saints
Rehab
Rock Around the Clock
Rum & Coca Cola
Save the Last Dance for Me
Shape of You
Stand By Me
Summer Time
Sweet Caroline
Valerie
Wanna Be Like You
What a Wonderful World
When I'm 64
Yes Sir That's my Baby
You Are my Sunshine
Songs in Dutch / Nederlandstalige nummers
Eviva Espania
Heb je even voor mij
Ik ben zo eenzaam zonder jou
Ik spring uit een vliegmachine
In 't kleine café aan de haven
Kom van dat dak af
Laat de zon in je hart
Lichtjes van de Schelde
Marina, Marina
Mijne Vlieger
Och was ik maar
Rats, kuch en bonen
Rue des Bouchers
Tis weer voorbij die mooie zomer
Twee Motten

Christmas songs / Kerstliederen
Go Tell it on the Mountain
Have Yourself a Merry Little Christmas
Jingle Bell Rock
Jingle Bells
Let it Snow
Rudolf The Red-Nosed Reindeer
Santa Clause is Coming to Town
Stille Nacht
Walking in a Winter Wonderland
We Wish You a Merry Christmas
White Christmas